Convenient Access
Storage Elevated provides storage units in Park City and our self-storage facility is located just minutes from Main Street Park City on the East side of Highway 40 at Quinns Junction. Conveniently located just a few minutes away so you can always get to your items easily. We are located on the East Side of I-40 across from the Hospital.
On-site Management
Our professional on-site management team is always ready to assist you with your storage unit needs. Storage Elevated offers a variety of sizes and types of storage units, so that we can better meet your unique needs.
Heated & Cooled Units
Our climate controlled storage units in Park City prevent damage caused by prolonged exposure to fluctuations in temperature and provides added protection from dust, keeping your stored items cleaner.
State-of-the-Art Security
Equipped with 32 high quality video cameras and electronic access controlled doors. Outside units are equipped with individual alarms and electronic overlocks. Each storage unit is outfitted with a cylinder lock system -most secure in the industry- providing you with peace of mind.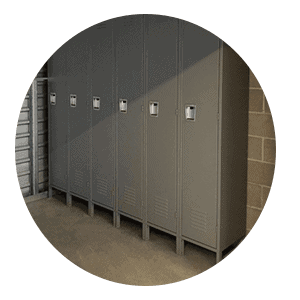 Now offering Ski Lockers in Park City, Utah!
Do you need extra storage space for your winter gear or skis when visiting Park City, UT? Do you need extra room for your hiking, mountaineering or cross country trekking equipment? Maybe you have a time share, seasonal or vacation rental and simply need quick access to your winter gear? For any small-space storage needs, Storage Elevated now has Self Storage Lockers that provide the right-size solution for you.
With hundreds of storage spaces and several local facilities, we know what consumers want in their Self Storage needs: A State of the Art facility with safe secure access and the best protection available provide them with confidence that your valuables are in the right place. Storage Elevated is conveniently located in Park City, UT
Ski Locker and Vacation Locker Benefits
We have designed our Self Storage Lockers to accommodate the needs of all types of Storage customers. For any Self Storage Locker solution need, we provide convenient access hours, as well as added security with a full coverage surveillance monitoring system. The advantage of our Self Storage Lockers include:
Added Safety and Security Measures
Smaller, "right-size" Storage Lockers
Easy Convenient Access
Simple "month-to-month" Storage Rates
Avoided risk of shipping your skis, seasonal gear or equipment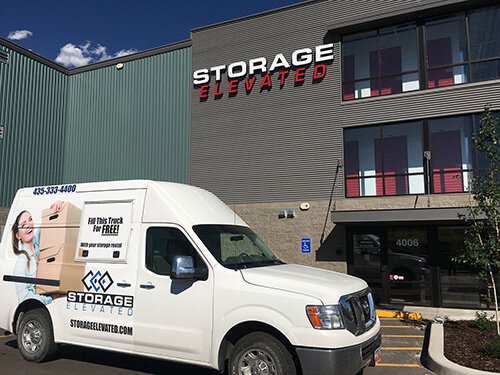 With a storage unit rental in Park City, UT
Use Our High Box Van for Free!*
Eliminate the hassle and cost of renting a moving truck! Rent any size storage unit and you'll get to use our brand new easy to drive 12' box van for a day. Most unit sizes require just one trip, but you can use it all day for your larger loads. Our Van is easy to load and drive and is equipped with AC/heat.
Make your reservation today because it is booked on a first come basis. We just need your driver's license, proof of auto insurance, and a credit card on file to get your move started right.
*For one day with a new storage rental
Make a Reservation
Storage Units Park City, Utah
Staff is incredibly helpful and responsive. Facility is clean, extremely well lit, and with easy access to all the units. Very happy we decided to use their facility, as we have used 3 or more different facilities in the past and nothing has compared. Special thanks to Deanna!

Linda
I am very pleased with my service and storage space at Storage Elevated. The location is perfect for me and access to the area is convenient. At first I thought being on the second floor would be difficult to manage but it has not. I unload my boxes and get on the elevator very quickly. The sign up for my unit was seamless and quick. Thank you Jordon.

Ann
The best run and cleanest storage units I have ever used. Best prices around too. Thanks for a very pleasant experience!!

Amy
Storage elevated has the nicest and most helpful staff not to mention the cleanest units I have ever stored at and have been using storage units for over ten years. They also have the best rates in the area. Always offers great discounts and deals and I will for sure store with them for a while!

Donna
All the personnel were well informed- Jordan, the Manager, could not have been more helpful. He was understanding of my needs & I was able to accomplish everything I needed. Thank You

Howard
Fair price. Extremely clean facility. Helpful staff and easy to work with. I definitely recommend Storage Elevated to anyone needing a storage unit! - Google Review

Chani
excellent service; clean, nice people. highly recommend storage elevated!! - Google

Cole
"Smart, efficient staff and spotless facility. Great location." Google

Josh
After looking at other storage facilities in Park City we are glad we choose Storage Elevated. It's new, clean, has easy access as well as climate controlled and secure. At 1st I was skeptical of not having a ground floor space, but with moving carts and a big elevator it was as easy as can be. Even the area to load and unload was clean, paved and most importantly covered. Deanna was most helpful in helping us find the right size a a good location close to the elevator. -Google

David
Very helpful staff, flexible on pricing and offers.
safe, secure and climate controlled. Very happy with them. -Google

Greg
After looking at other units in Park City, Storage Elevated was the place to be! Jordan was very helpful and knowledgeable while getting us in a unit. The facility is always clean and well maintained. Don't pass up the opportunity to store here!

Tiffany
Storage Elevated has been a great place to store our life belongings while our new home is being built. Deanna has been wonderful to work with and the facility is really clean and well kept. It provides easy access at all times. We have been very impressed and happy with our decision to go with Storage Elevated.

Taylor

Very Impressed!
Jordan was very helpful in getting us a unit. Very clean and very hi-tech. Definitely the place to store you items.

Cristian
Great facility; friendly and professional staff made signup easy; new and clean property.

Michael